<![if !vml]>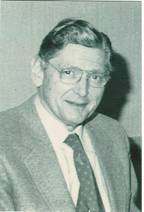 <![endif]>
Bruce Brownfield Smith was born December 16, 1917 in Seattle, WA of a pioneer family.† He passed away on October 28, 2007 after a brief illness.† His father and uncle were both dentists.† Bruceís father, Nathan Smith, practiced dentistry until he was 90 and he lived to be 100.† Graduating from high school in 1936, Bruce spent three years at the University of Washington in pre-dental studies.† The U of W School of Dentistry was not yet in existence, so, Bruce enrolled at North Pacific Dental College (now University of Oregon) and graduated with honors, Omicron Kappa Upsilon, receiving the DMD and B. Sc. degrees.
While waiting to be called to active duty with the Naval Reserve, Bruce spent one year teaching at North Pacific Dental College.† He served on active duty for three years during World War II in California and Okinawa.† Following the war he entered private practice in Seattle and later became one of the original faculty members at the new University of Washington School of Dentistry on a part-time basis, teaching Operative Dentistry, Crown and Bridge and Ceramics.
Bruce served as mentor of the John Kuratli Study Club (Crown and Bridge) in Oregon for 18 years and was a member of the University-Ferrier Gold Foil Study Club from 1949 through 1985.† He was a founder and first President of the American Academy of Gold Foil Operators (1952 and 1953) and received fellowship in the American College of Dentists and the International College of Dentists in 1953.† He was a member of the Pierre Fauchard Society.† He has served as vice-chairman and chairman of the American Dental Association section in Operative Dentistry (1976).† He was President of the Academy of Operative Dentistry in 1974, as well as President of the American Academy of Restorative Dentistry in 1978-79.† He was a member of CAIC dental study seminar.† He received the 1998-99 Seattle King County Dental Society Service Award in honor of his 57 years of dental practice.
Dr. Smith has published several papers in the dental literature and produced a movie, Practical Rubber Dam Application, with Dr. Gerald D. Stibbs, which won an award at the French Film Festival.† He has contributed to various Operative Dentistry textbooks.† He was the first in the United States to organize a closed circuit T.V. presentation of chair dental operations for the Washington State dental meeting in Seattle.† He has been an instructor of a number of two-week post graduate courses in Ferrier gold foil procedures as well as a three day course in class II gold foil operations with Dr. Stibbs.† He has given several courses and lectured on the use of dental porcelain throughout the United States and many foreign countries.† Bruce has designed several special instruments for use in gold foil operations.† He was mentor of the George Ellsperman Gold Foil Study Seminar in Seattle.† Bruce was honored with the Distinguished Member award of the American Academy of Gold Foil Operators and also the Award of Excellence from the Academy of Operative Dentistry.† He was licensed to practiced dentistry in Washington, California and Oregon.
For recreation, Bruce engaged in sailboat racing for 20 years.† In the early fifties he was a champion fencer (1st place in the Junior Menís Pacific International Fencing tournament, 1956).† He served as a summit guide at Mt. Rainier and was a member of the Mt. Baker avalanche rescue effort featured in Life Magazine.† In high school, Bruce was an accomplished archer winning the Northwest Junior Championship.† He was also an accomplished singer and loved to drive his high performance Porsche.
Bruce was preceded in death by his wife Lola and is survived by daughters Joy Smith and Nicki Smith.† A memorial service will be held at 2:45 pm on November 10th at the Seattle Yacht Club.
This article was written by Dr. J. Martin Anderson and appeared in the Seattle Times and PI the week of November 1, 2007